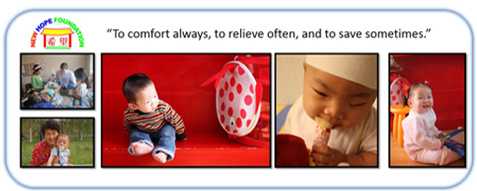 Hope Foster Home
This is a beautiful large organization that takes care of the medical needs of orphans. They are located about 30-40 minutes from CCC. Please see their list of needs on their website www.hopefosterhome.com or see Robin and Joyce Hill.
Starfish Project
This is a social enterprise caring for women coming out of exploitation. They provide vocational training, health care, shelter and counseling. Looking for volunteers to become an Advocate of Hope or to host jewelry parties in their homes in Beijing. Also need help with graphic design, photography or administration. Contact: Jennifer Melton ( )
Agape Migrant Community Center
There are 3 community centers that are currently looking for help with the children on weekday afternoons, Saturdays and during the summer. Two of the centers are located near Tian Tong Yuan and one is near Li Ying, Shunyi. Please write to Joanne ( )
Aleneh's Foster Home (Children's Hope International)
Looking for regular volunteers to come 2-3 hours a week M-F in the mornings or afternoons to play with babies and toddlers and shower them with love. This home is very close to the church. Please write to Zheng Ping ( )
Amazing Hands Foster Home
This is a small foster home for 12 special-needs orphans in MaQuanYing (near Beijing Riviera). The following opportunities are available for volunteers: Regular volunteers for 2 hours a week M-F in the morning or afternoon to play with babies and toddlers. Provide baked goods (for children's snacks, birthdays, special occasions, etc.). Lunchtime teaching on topics such as health, nutrition, self-worth, women's issues, relationships, art, English, communication, or any subject that may enrich the lives of our nannies. Contact Amy Pu ( )
Bread of Life Bakery
This is a bakery business run by physically disabled young adults who have grown up in orphanages in China. Their sister organization is the Agape Family Life House is a foster home which provides care for children with Osteogenesis Imperfecta (brittle bones). Contact Danny ( ) for volunteer opportunities or to order baked goods.
Springsations
This organization helps single mothers and their young children. They provide meals, housing, child care and job training as well as jobs to young women and single moms. The women make bags to earn a salary. Currently in need of volunteers to teach or assist in teaching parenting tips, breast feeding, potty training, child care, First Aid, sewing classes, and birthday party organizers. Contact via wechat: CeCe214, Springsations or 188-1101-7242
RoundAbout
This charity accepts donations of good condition used items to sell in their store in order to support many worth causes across China. They also need volunteers. More information is on their website: www.roundaboutchina.com